DISCOVERING MONTALCINO & BRUNELLO WINES

Montalcino is a hill town in Tuscany and it is famous for its Brunello di Montalcino wine.

The town is located to the west of Pienza, close to the Crete Senesi and it is part of the popular Val d'Orcia. It is 42 kilometres (26 mi) from Siena, 110 kilometres (68 mi) from Florence. The Monte Amiata is located nearby and being a former volcano it helped giving the area a particular soil composed of tufa rock and limestone at least in the South-West part of the hilltop and composed of clay in the North-East part of the hilltop.
These soils are the responsible of some important peculirities that you will discover during your Brunello wine tours and by tasting the wines of this region.
---
---
The town takes its name from a variety of oak tree that once covered the terrain. The very high site of the town offers stunning views over the Asso, Ombrone and Arbia valleys of Tuscany, dotted with silvery olive orchards, vineyards, fields and villages. The lower slopes of the Montalcino hill itself are dominated by highly productive vines and olive orchards.
During medieval times the city was known for its tanneries and for the shoes and other leather goods that were made from the high-quality leathers that were produced there.
Like many of the medieval towns of Tuscany, Montalcino experienced long periods of peace and often enjoyed a measure of prosperity. This peace and prosperity was, however, interrupted by a number of extremely violent episodes.
During the late Middle Ages it was an independent commune with considerable importance owing to its location on the old Via Francigena, the main road between France and Rome, but increasingly Montalcino came under the sway of the larger city of Siena to be later on included in the Granduchy of Tuscany ruled by the Medicis.
As time went by, many medieval hill towns, including Montalcino, went into serious economic decline.

In the case of Montalcino, gradual economic decline has recently been reversed by economic growth due to the increasing popularity of the town's famous wine Brunello di Montalcino, made from the sangiovese grosso grapes grown within the comune. 
---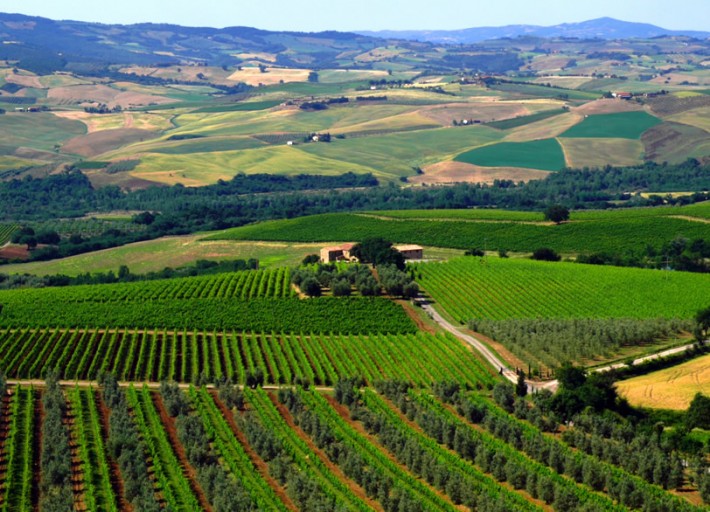 ---
The number of producers of the wine has grown from only 11 in the 1960s to more than 200 today, producing some 330,000 cases of the Brunello wine annually. 
Brunello was the first wine to be awarded Denominazione di Origine Controllata e Garantita (DOCG) status. 
In addition to Brunello di Montalcino, which must be aged five years prior to release, 6 years for the Riserva, Rosso di Montalcino (DOC), made from sangiovese grosso grapes and aged one year, and a variety of Super Tuscan wines are also produced within the comune, as well as the Moscadello sweet white wines for which it was most famous until the development of the Brunello series.
---
---